Server Support

Outsourced Server Support and Maintenance Services
What is Server Support? 
Complete Server Support and Management is the process of monitoring and maintaining servers to operate at peak performance. Our server management process also encompasses the management of hardware, software, security, and backups.
Benefits of Server Support with Complete Technology
24/7/365 Monitoring
We provide 24/7/365 monitoring of your server environment. Our server monitoring software facilitates the monitoring and tracking of a server's performance with alerts. This enables us to identify and solve any application and performance issues day or night…putting your mind at ease.
Application Deployment
We will aid in the deployment of any major applications you use to run your business. Our team of experts will know exactly how your software interacts with your server/network ensuring a quick, streamlined deployment process.
Patch Deployment
A patch is a set of changes to a computer program designed to update, fix, or improve it. This includes fixing security vulnerabilities and other bugs. An efficient deployment patches network wide helping to improve the productivity of the company in many ways. Often patches come with performance improvements for the products they apply to or fix crashes. Helping employees get rid of these issues will lead to a productivity boost.
Learn more about the difference between Cloud Servers vs. Physical Services on our blog.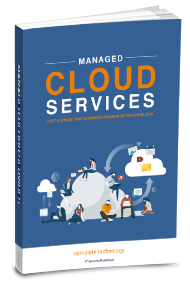 Learn What You Can Gain From Cloud IT Support With Our Free eBook
Have you considered all the ways technology pays for itself? Find out the cost-savings you may be overlooking a business owner with this free eBook from Complete Technology on Managed Cloud Services.
Download your copy today.
The Complete Care Process
Complete Technology's approach to managed IT services provides a custom solution designed specifically to your business's needs. We start with learning more about your business, goals and objectives. Through our network assessment, we can further determine your business's technology infrastructure, management policies, security, and performance. Following discovery, our team can deliver a tailored proposal breaking down our strategic approach to eliminate excess IT spending and maximize your productivity. The Complete Care Process is a proven process for success and enables us to achieve the highest level of support and service for your users together.
Learn more about our offerings through our managed IT services:
Complete Technology provides remote and onsite IT support and management services to small and midsize businesses throughout Kansas City, Omaha, Des Moines, and St. Louis for one flat monthly fee. Contact Complete Technology Services today to get your free consultation.