Network Support

Comprehensive Monitoring and Support For Your Network
What is Network Support? 
Our network support engineers focus on the maintenance of your network. Network support extends from testing and troubleshooting problems to regular maintenance. This includes Wireless Access Points, Firewalls, Switches, Routers, and more.
Benefits of Network Support with Complete Technology
Advanced Firewall Management & Protection
Complete Technology Services uses the very latest tools and monitoring software to ensure your Firewall is properly configured and managed with advanced alert and remediation technology to keep your business safe and secure.
Wireless Access Points/Routers
All the wireless access points, routers and other miscellaneous network devices at your company will be monitored, managed and trouble shot when issues arise.
Switches
A network switch is hardware that connects devices on a network by using packet switching to receive and forward data to the destination device. We at CTS will ensure your switch is routing traffic as intended and proactively work to identify potential issues.
Network maintenance is challenging. Learn more about the importance of network assessments on our blog.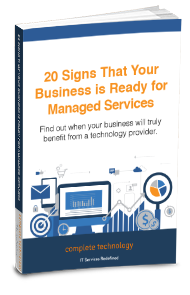 Decide If Managed IT Services Is Right For You With Our Free eBook
Are you ready to restructure your business's IT support and services?
Find out how your business will benefit from a technology provider with this free eBook from Complete Technology and get a clear picture of what an MSP can do for you.
Download your copy today.
The Complete Care Process
Complete Technology's approach to managed IT services provides a custom solution designed specifically to your business's needs. We start with learning more about your business, goals and objectives. Through our network assessment, we can further determine your business's technology infrastructure, management policies, security, and performance. Following discovery, our team can deliver a tailored proposal breaking down our strategic approach to eliminate excess IT spending and maximize your productivity. The Complete Care Process is a proven process for success and enables us to achieve the highest level of support and service for your users together.
Learn more about our offerings through our managed IT services:
Complete Technology provides remote and onsite IT support and management services to small and midsize businesses throughout Kansas City, Omaha, Des Moines, and St. Louis for one flat monthly fee. Contact Complete Technology Services today to get your free consultation.