Cybersecurity
Protect Your Business With Enhanced Cybersecurity Monitoring Services
Why Organizations Need to Invest in Cybersecurity
Cybercrime isn't just increasing, it's also evolving into something more sophisticated and harmful.
Poor cybersecurity can result in financial loss, erased or altered data, a damaged business reputation, or worse – it can put your organization out of business completely. The more your business grows, the more valuable your data, and the higher the risks for a cyberattack.
Investing in cybersecurity is investing in the future success of your business. Complete Technology can help create a custom security strategy that gives you cutting-edge protection against the latest attacks, including cybersecurity training, audits, firewalls, and more. You can rest easy knowing your business has top-notch defense against online threats.
Cyberattacks Are on the Rise - Here's How To Protect Your Business
From malware to phishing scams to ransomware, there are countless types of cyberattacks and each can cost your small business millions of dollars.
Some types of malware spread through clicking harmful links or downloading suspicious files, which is why cybersecurity training is so important. Cybersecurity training helps educate your employees on what signs to look for and the appropriate actions to take when responding to a security threat.
However, not all cybersecurity attacks are a result of human error. Some types of malware can enter your network and cause damage without any action on your part.
That's why cybersecurity monitoring is an essential part of cybersecurity protection. When you have someone checking for vulnerabilities and making updates to your systems, malware and scammers have fewer opportunities to exploit your network.
Complete Technology uses a host of preventive measures like firewalls, intrusion prevention systems, multi-factor authentication, and malware detection software to give you peace of mind and provide extra protection to anyone trying to penetrate your network.
Cybersecurity Service When You Need Us with 24/7 Support
Weekday or weekend, day or night, Complete Technology is on call and ready to provide support at a moment's notice. If you're experiencing a cyberattack, fall victim to a phishing scam, or just have a question, you can call or message us for IT help desk support and a cybersecurity expert will assist you.
With 24/7 cybersecurity support, you don't have to sit around waiting for help. Our team is ready to jump in and quickly fix issues before more damage can be done.
Supporting Your IT Needs with Onsite Tech Support
In the event of a security breach, malware infestation, or other cybersecurity emergency, remote support isn't always enough to get your systems back on track.
When you need hands-on help, we send our cybersecurity experts to your location as soon as possible. Our onsite tech support works to get your business operations back to normal without delay, at no additional cost to you.

IT Support and Cybersecurity FAQs
What Is Cybersecurity?
Cybersecurity is a set of methods and processes used to protect networks and devices from digital attacks.
These attacks are typically made in order to extort money, access sensitive information, or destroy data. But with the right cybersecurity protection, you can prevent malware and other security risks from disrupting your business and damaging your reputation.
Complete Technology offers comprehensive cybersecurity services and cybersecurity management to keep your technology reliable and hassle-free.
Through decades of experience serving businesses in a wide variety of industries, our cybersecurity experts can implement layers of protection across your networks and devices to create a cohesive and powerful cybersecurity strategy for your business.
What's more, our IT security services are included in our flat-rate fee so you can boost your security for no additional monthly cost.
What Are Telltale Signs Of Phishing Emails?
Phishing emails are designed to trick you into clicking dangerous links or providing sensitive information to scammers, so be on the lookout for signs of a fraudulent message.
A legitimate organization will have a professional-sounding message without any grammatical errors or misspellings, so be cautious.
You should also double-check that the email came from a domain that matches the company (i.e., not a Gmail or Yahoo address). Suspicious links and attachments are other red flags and clicking them can infect your computer.
BEC scams, or business email compromise scams, are a type of phishing attack targeted for a specific person, usually a higher-level employee like a manager or C-level officer. The goal is to get the victim to transfer money to the scammer, so BEC scammers carefully research their target in advance to create a more believable ruse.
Read more about signs of phishing emails and BEC scams.

How Do I Protect My Business From Malware?
Malware is any type of software that infiltrates your device or network and causes harm.
If your contacts are receiving messages from you that you never sent, you are seeing unknown apps or pop-ups, or your security software is disabled with no explanation, there's a good chance that your computer is infected with malware.
Cybersecurity training for your employees is a good place to start in preventing malware. Beyond that, there are a number of layers of protection you can put in place to decrease the likelihood of a malware infection.
Maintaining up-to-date firmware and operating systems reduces vulnerabilities that might be used to infect your network.
Installing anti-malware software and high-end spam filters can help block out viruses or phishing scams before they reach you.
Additionally, cybersecurity monitoring by experienced technicians helps ensure anything that may slip through the cracks is detected and dealt with before it causes problems.
Why Should I Outsource Cybersecurity as a Small Business Owner?
Cybersecurity for small businesses is no longer optional. As a small business, you're more vulnerable to attacks, and recovering from a cyberattack can easily cost hundreds of thousands of dollars.
In fact, nearly half of all breaches impact small to midsize businesses. It's crucial to protect your networks, devices, and data through proactive tools, cybersecurity monitoring, and multilayered protection. However,  many small businesses don't have the budget or resources for this level of cybersecurity protection.
By outsourcing your cybersecurity needs, you can save on costs, gain access to more powerful cybersecurity management, and rely on highly trained cybersecurity experts to keep you ahead of the latest scams and attacks.
Complete Technology has been partnering with local businesses for years to provide the latest IT security solutions for a fraction of the cost of in-house IT support. Contact us to find out how outsourced cybersecurity can benefit you.
What if I Already Have an In-House IT Support Staff?
Our team of outsourced IT experts can support your in-house IT staff by taking on tasks outside your area of expertise, tasks you don't have time for, or tasks that would be more efficiently carried out by an established cybersecurity company.
With Complete Technology removing these higher-level tasks from your plates, your existing staff can dedicate more time on day day-to-day support. Plus, you can benefit from our cybersecurity professionals' knowledge without making additional internal hires.
What Services Does An Outsourced IT Support Engineer Provide?
An outsourced IT support engineer provides everything from cybersecurity management, cloud services, and proactive management as well as data recovery, help desk support, and vendor management.
They can resolve IT issues remotely and come onsite for in-person support when desired.  An outsourced IT team troubleshoots and maintains your systems and responds to threats and emergencies when they occur.
Complete Technology manages all aspects of your IT services and helps bring vision to your IT strategy so you can stop stressing about distractions and spend more time growing your business.
What if My Technology Is Already Working Fine?
Waiting until something breaks to take action isn't the most effective way of managing your technology.
Our proactive approach to IT management prioritizes scheduling upgrades in advance and eliminates risks to avoid downtime and save your business time and money.
When you keep your networks and devices in great condition, you can prevent interruptions and increase productivity. Our IT team works daily to maintain your technology so technical issues don't occur in the first place.
How Can IT Support Boost My Productivity?
Technology is meant to help your business operate more efficiently. But if technology malfunctions are causing downtime, preventing your employees from getting work done, or resulting in lost profits, it may be time to consider outsourced IT support.
With Complete Technology's professionals handling your IT updates, protection, and strategy, you're eliminating all the distractions that take away from your organization's responsiveness and growth.
Leaving the technology burden to the experts allows your employees to focus on the tasks that benefit the reputation, revenue, and, ultimately, the success of your business.
Does Your Business Need Cybersecurity Services? Find Out.
Organizations in non-profit, food and beverage, manufacturing, agriculture, and more all rely on Complete Technology for comprehensive IT support and management. We partner with businesses in a wide range of industries to offer everything from short-term fixes to long-term strategy.
Cyberattacks don't discriminate based on business size or type, so whether you're a small organization or a large enterprise, you need a strong cybersecurity protection strategy in place, including device security, phishing security, and malware security. Read what some of our clients have to say about how Complete Technology has enhanced their business IT.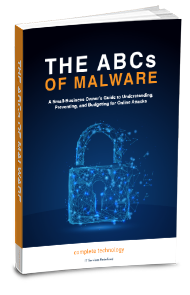 Increase Your Cybersecurity Knowledge With Free eBooks
Preventing malware is a lot easier when you know what to look for. Our complimentary eBook, will walk you through the signs of a malware infection and teach you some tips and tricks for boosting your malware security.
Download your copy of The ABCs of Malware for free.
Cybersecurity Expertise in Your City
Complete Technology serves the cities of Kansas City, Omaha, Des Moines, and St. Louis with remote and onsite IT support and cybersecurity protection.
We're available 24 hours a day to respond to your questions and concerns, no matter how small or overwhelming. Our IT experts are just a call or message away, and if you need in-person assistance, we'll dispatch our team to solve your issues onsite.
One monthly fee covers everything from data backup to cybersecurity to IT help desk support, so no matter what IT problems come your way, you don't need to budget for any extra costs. Contact Complete Technology today to learn more about our services.