IT Consulting

Boost Business Efficiency With Experienced Outsourced Technology Consulting
What is an IT Consultant?
An IT consultant works with businesses to help them overcome technology roadblocks and achieve business objectives. With your goals and budget in mind, an IT consultant can assist with optimizing costs, reducing risk, and boosting the efficiency of your organization.
IT consulting can cover a variety of topics, including software and hardware consulting, network infrastructure consulting, security technology consulting, and more. Consultants can help you decide what equipment to purchase, which vendors to pursue, and which direction to take your IT strategy.
Complete Technology's IT Consulting Process for Business Hardware and Software
Hardware IT Consulting
Without the proper IT infrastructure, your business won't have the capabilities to deliver the products and services your customers rely on. Complete Technology's can advise on which technology equipment will best suit your priorities, whether it's growing and scaling your technology, avoiding compatibility issues, optimizing for a hybrid workforce, or renting versus buying devices.
We also offer IT hardware asset management to better track your physical IT components and reduce your hardware budget. Our IT consultants are experts in all things hardware, from monitors, printers, and laptops to hard drives and RAM, and can advise you on the tools that can truly add value to your business.
Software IT Consulting
Need help choosing the best software for your small business? Not sure if the software you have is the right fit for a project? Complete Technology's software consulting will evaluate your priorities, budget, and risks, and help you select the best fit software.
Beyond just helping you select the proper tools, we'll also help implement any new software and integrate it into your long-term IT strategy. As your full-service IT provider, Complete Technology will become familiar with the challenges your company faces and can advise you on solutions to increase your productivity, customer satisfaction, and return on investment.
Expert Technical Support When You Need It Most
Onsite Technician
While a lot of what we do at Complete Technology Services can be done off-site, there are still moments when you need someone to come down to your location. When an IT problem is too complex to fix remotely, we'll send one of our expert technicians to your location to diagnose and troubleshoot the problem on the spot.
Our onsite services are included in our complete care contract for a flat rate. This means you'll get all the IT support you need without having to pay extra. Since our onsite service is included in our flat monthly rate, it aligns our interest with yours. While a traditional break-fix or reactive IT company doesn't get paid unless they fix problems, we get paid to prevent problems.
Benefits of our Onsite Tech service include:
Lower costs - there's no need to hire, train, and manage an in-house IT staff
Single point of contact - our team knows the history of your past problem areas, meaning we can fix your problems fast
Reduced downtime - we respond quickly to your request, which means downtime is kept to a minimum
Eliminate Potential Issues Before They Happen
Proactive Management
Complete Technology's Proactive Management isn't just about monitoring systems. It's not even just about troubleshooting problems. It's about a proactive approach to IT management. We will work closely with you to identify business processes, risks, and vulnerabilities. Our team efficiently monitors, troubleshoots and maintains your desktops, servers and other endpoints to ensure uninterrupted service to your business.
We utilize powerful software and tools from world-class vendors - it's one of the reasons why we can guarantee system uptime, availability and resilience. If you happen to come across any service disruptions or technical issues, our support team is on hand to provide timely and professional assistance.
Complete Technology's Proactive Management gives you:
Technology expertise - let us become your dedicated IT department
Predictable spending - you have total control of your IT expenses
Enhanced uptime - so your employees can focus on their tasks

IT Support and Technology Consulting FAQs
What Does an IT Technology Consulting Company Do?
An IT technology consulting company partners with businesses to offer advice on how to adjust their technology strategy to better accomplish their business objectives and become more profitable.
IT consulting companies use their industry knowledge and experience to help businesses maximize their technology opportunities and processes while keeping costs manageable. They take care of everything from technology planning and equipment selection to vendor relationships.
An IT consulting company will determine how to best utilize technology to improve your business practices.
Why Should I Outsource IT As A Small Business Owner?
Running IT for a business takes a lot of time and effort. Without the right knowledge and plan, IT can easily hinder your business productivity and growth. Outsourcing eliminates IT distractions and downtime to create a more efficient and profitable environment to help your business thrive.
From securing your network and resolving IT issues to backing up data and making informed decisions on equipment, our small business IT support takes care of all aspects of technology management and solutions for one monthly fee.
What Results Should I Expect from Technology Consulting?
It's easy to be overwhelmed by the number of options for new technologies and providers. IT solutions consulting can help your business decide which technologies are a good fit.
Technology consultants provide objectivity and expertise in helping you overcome technological challenges, such as updating infrastructure, technology deployment, lowering costs, and more. When working with a technology consultant, you can expect a long-term roadmap that helps guide your business in the right direction.
Why Do I Need A Business Consulting Service?
A business consulting service doesn't simply tell you how to run your business. They evaluate your operations and learn about your goals, then use that information to help you streamline processes, reduce internal issues, and ultimately increase revenue and growth.
By identifying problems and providing solutions, business consulting services offer an honest and fresh outlook on how to help your operations become more efficient.
What If I Already Have an In-House IT Support Staff?
Your in-house IT support staff may only have so much bandwidth.
Between juggling new projects, resolving IT issues, keeping vital data backed up, managing systems and endpoints, deploying security patches, running your IT infrastructure, and installing new equipment, something is bound to fall through the cracks.
Let Complete Technology's outsourced IT experts support your in-house IT staff. We can provide specialized tools and resources for projects, assist in balancing your IT staff's workloads, and offer immediate support on any deliverables. Plus, we're available 24 hours a day, 365 days a year. Expand your technological capabilities by adding outsourced IT support.
What Services Does an Outsourced IT Support Engineer Provide?
When you partner with Complete Technology, you gain access to all of our outsourced IT support services, including help desk support, cybersecurity protection, cloud services, data backup, IT management, consulting, vendor management, and more.
For our flat monthly rate, our IT support engineers will proactively manage and maintain your technology and troubleshoot any IT issues that arise. They're available 24 hours a day to answer questions, resolve problems, and offer advice on anything and everything IT.
Outsource your IT support and shift the technology burden to us so you can run your business stress-free.
What If My Technology Is Already Working Fine?
Keep your technology in great shape with proactive IT support, which performs repairs and upgrades in order to prevent problems that could compromise your operations. When you wait until a problem has already occurred, you allow downtime and broken technology to negatively impact your organization's productivity. Complete Technology's proactive management services include monitoring and maintaining your devices and servers to reduce vulnerabilities and increase your business's resilience.
How Can IT Support Boost My Productivity?
Having a dedicated in a number of ways. You'll gain access to the latest software, hardware, and security protection, which allows your business to run more smoothly. Tasks like maintenance and upgrades will be handled by your outsourced team, which not only saves your employees time, but prevents other time-consuming issues from occurring.
By removing the wasted time worrying about technology issues and outages, your staff will now have more time to dedicate to what's important, like nurturing customer relationships and developing innovative business solutions.
Scaling Business Growth with Dedicated IT Support and Consulting
IT solutions aren't one size fits all. New emerging technologies like artificial intelligence, virtual reality, and the Internet of Things are revolutionizing the way businesses operate, but it can be difficult to know which ones to include in your IT strategy.
That's why we use our industry experience and knowledge to develop custom solutions that fit your specific industry and business. We serve businesses across industries, so whether you're a commercial business, industrial manufacturer, healthcare provider, or law firm, we're prepared to save you time and money on your technology strategy.
Complete Technology's business IT consulting takes the confusion and stress out of the equation. By providing product recommendations, comprehensive IT support, and technology planning, we'll equip you with all the right tools to seamlessly scale your business. From small offices to large enterprises, our clients know they can count on CTS for long-term, proactive technology support.
Free IT Consulting eBooks from CTS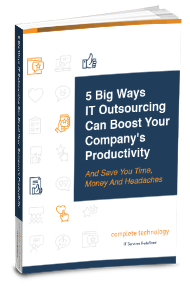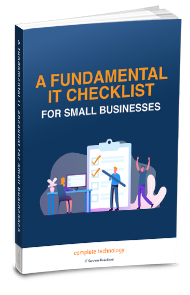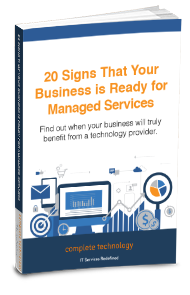 5 Big Ways IT Outsourcing Can Boost Your Company's Productivity
Not sold yet on how outsourcing IT can take your business productivity to the next level?
Download our eBook for specific strategies and real-world scenarios that outsourced IT can offer your business.  
A Fundamental IT Checklist For Small Businesses
The amount of planning, maintenance, and management involved in running your business IT can be mind-boggling, which is why we've compiled this list to help you check all the boxes.
Learn how to best meet the technology needs of your business with our fundamental IT checklist.
20 Signs That Your Business is Ready for Managed Services
IT-managed services aren't necessary for all businesses, but if you're experiencing any of these warning signs, it may be the solution your business needs.
Download your free copy of our eBook to learn more about the warning signs and find out if a managed services provider could benefit you.
IT Managed Services For Midwestern Businesses
Ready to pass off your IT hassles to a trusted IT provider? Complete Technology provides innovative IT solutions and around-the-clock tech support to small and midsize businesses in Kansas City, Omaha, Des Moines, and St. Louis.
All our services are included in one monthly fee, giving you access to cybersecurity protection, data backup solutions, cloud services, technology consulting, onsite and virtual IT support, and more for a single, predictable price.
When you partner with our team of IT experts, you can trust that we'll resolve your IT issues promptly, allowing you to gain back lost time and increase workplace productivity. Find out how CTS can serve you by getting in touch with us today.