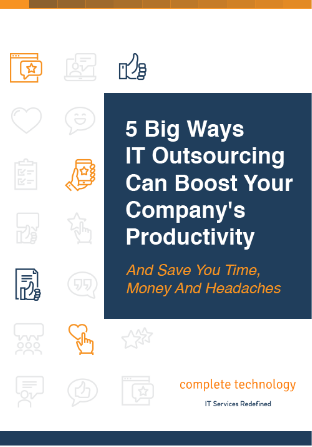 "5 Big Ways IT Outsourcing Can Boost Your Company's Productivity outlines the specific strategies and technologies [company_short] deploys to make your organization more prolific than any of your competitors.
Inside this downloadable eBook, you'll find:
Questions to ask about whether in-house or outsourced IT is better for you
Real-world scenarios that demonstrate the power of managed IT services
A simple formula for calculating financial losses due to inadequate IT support
Details on how we can deliver solutions and support faster than your in-house team
…and more
Over the years, our experience and expertise has enabled us to perfect our service model. [company_short] doesn't concentrate solely on supporting your existing infrastructure, our team works tirelessly to make it better -- for your sake, and ours. But if you're still not ready to reach out for a consultation or demonstration, download our no-obligation eBook to see whether we offer anything our competitors don't.