Help Desk
Protect Your Business With 24/7 Help Desk Monitoring Services
What is a Help Desk?
An IT help desk serves as a single point of contact for IT users to get immediate tech support. IT help desk services include troubleshooting, answering questions, fixing system outages, addressing malware infections, and repairing devices.
From individual concerns about devices or passwords to company-wide network failures, you can count on Complete Technology's IT help desk support to resolve your problems. Our remote help desk services are available 24 hours a day, 7 days a week, for all your urgent issues.
All you have to do is pick up the phone or send us an email or instant message. We'll guide you through to a swift resolution.
Benefits of Outsourcing IT
Outsourcing your IT services takes the stress out of staffing issues, such as concerns with hiring qualified employees, cost of salary and benefits, and time spent training.
When you partner with Complete Technology, you can feel confident that you're getting the highest level of service from qualified IT professionals who specialize in serving small- to medium-sized businesses. Equipped with industry knowledge and top-of-the-line solutions, your business can grow without restrictions.
You can also save a lot of money outsourcing your IT services. Not only will you reduce the cost of equipment, utilities, and labor costs, but the increased efficiency and productivity you'll gain can make a big impact on your revenue.
Plus, our fixed pricing, which covers our entire scope of IT services, ensures there will be no budget surprises. 
Managed Services Provider for the Midwest
With IT-managed services from Complete Technology, you no longer have to worry about overcoming IT obstacles, keeping your infrastructure up to date, or upgrading your technology.
Our IT professionals take the reins, providing you with a full-fledged IT strategy, implementing that strategy, and adjusting it based on key metrics. Outsourced help desk services help maximize the efficiency of your business by taking IT services off your plate and placing them into the hands of a trusted provider. 
Remote Help Desk Services Help Troubleshoot IT Hassles
The rise in remote work means that, for many businesses, it's essential to get fast tech support virtually.
Remote help desk services mean you don't have to wait for a technician to travel to you to solve your issues. We can simply access  your device remotely and find a solution on the spot. At any time of day, you have immediate access to our IT experts and can count on a quick response.
The rise in remote work may require a network upgrade and outsourced IT support to handle the hybrid workforce. Check out this infographic on how to optimize your network for remote teams.
Onsite Tech Support When You Need Us There
When you're having an IT crisis that can't be solved remotely, don't panic.
We understand sometimes hands-on support is necessary to find a solution, which is why our team of technicians will come to your location and diagnose the problem. We respond to your requests quickly to help eliminate downtime for your business.
Onsite tech support is included in our monthly rate, so there's no extra charge.

IT Support and Help Desk FAQs
What Does an IT Help Desk Do?
Information technology help desks are a guaranteed way to enhance the efficiency of your business and reduce the time your staff loses trying to fix IT issues. An IT help desk is a reliable source of support and solutions for all your technology needs – from installing printers to fighting cyberattacks to navigating computer systems.
Technology is notoriously unpredictable, which is why Complete Technology's outsourced help desk services are available 24 hours a day, 7 days a week, to address your problems immediately.
Just shoot us a message or give us a call. In minutes, a technician will remote into your computer and walk you through a solution. 
What is Virtual Desktop Infrastructure (VDI)?
Virtual desktop infrastructure, or VDI, manages desktops remotely from a centralized server, allowing employees to access their desktops anywhere.
VDI gives your staff the flexibility to work remotely and securely by hosting virtual desktops on the cloud. Users can then access these virtual desktops from their personal devices.
Contact Complete Technology to learn more about optimizing your business for VDI.
Why Should I Outsource IT Services as a Small Business Owner?
Running a small business involves a lot of moving parts. As a business owner, you're responsible for growing your business, increasing profits, managing spending, bolstering the reputation of the business… The list goes on and on.
You may not have the time or resources to dedicate to the management and security of your technology. IT outsourced help desk services ensure you and your staff get the highest quality technology support and security for a flat monthly fee.
Shifting the burden of IT management from your small business to Complete Technology enhances your employees' productivity, reduces the risk of tech failures, and makes it easy to expand IT capabilities on demand.

What If I Already Have an In-House IT Support Staff?
If you already have an in-house support staff, you know how much effort, time, and money it takes to hire, train, and pay staff with the right experience. Outsourcing your IT services gets you specific skills and resources you might not otherwise have access to.
You may not be able to justify hiring additional full-time staff members for a limited time period or a specific project, so it might make more sense to turn to an IT-managed services provider instead. You can also eliminate the waiting time when hiring a new employee.
Our technicians are prepared to jump into your projects on day one. We can also take over time-consuming management tasks from your IT staff so they can focus on the day-to to-day IT management of your business.
What Services Does an Outsourced IT Support Engineer Provide?
An outsourced IT professional offers everything an in-house IT staff member might provide, and more.
Our outsourced IT technicians proactively maintain and upgrade your devices and servers to keep your business in tip-top shape. We answer questions and respond to help desk inquiries within minutes whenever there's an issue.
They fight cyberattacks through top-of-the-line protection software and back up your data to avoid any losses. They offer recommendations and consulting on your technology strategy, as well as manage your vendor relationships.
Our team members offer around-the the-clock remote support and can even come to your location if hands-on troubleshooting is needed. Complete Technology's outsourced IT experts act as an extension of your team to carry out your technology vision.
What If My Technology Is Already Working Fine?
If you wait until your technology is failing to address IT problems, you're fighting a losing battle.
Each minute of IT downtime costs businesses an average of $9,000, but with proactive IT support, you can prevent downtime, and the loss of productivity and revenue that accompanies it. Complete Technology's approach to proactive IT support includes performing regular maintenance, upgrades, and troubleshooting to keep small issues from turning into big problems. 
How Can IT Support Boost My Productivity?
IT services are meant to help foster the growth of your business, not hinder it. If technology malfunctions and downtime are impacting your profits, your staff's time, or your overall efficiency, it may be time to consider IT managed services. 
We monitor your technology 24 hours a day so your systems are always up to date and fully protected against the latest malware. This gives you and your staff time back in the day that you might have spent dealing with network glitches, in-house IT staffing issues, or device breakdowns.
Additionally, outsourcing your IT support helps bring your technology goals to life, which can skyrocket your business output. Complete Technology offers IT consulting and strategy based on years of industry experience, all of which is included in your monthly fee.
Alleviate IT headaches and increase your productivity when you leave your IT to Complete Technology.
Help Desk Services For Businesses In Your Industry
A growing business needs MSP help desk services, whether you're a healthcare provider, law firm, food and beverage manufacturer, construction company, or any other industry.
Complete Technology has the capability to serve small, medium, and large businesses and tailor our strategy and services to best accommodate your organization's size and needs.
The businesses we partner with are spread across industries, but what they have in common is the knowledge that they can rely on Complete Technology for prompt, dependable help desk support.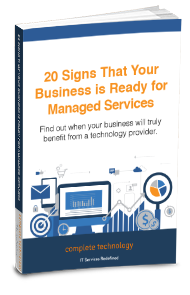 Free Advice From Complete Technology
Is it time to outsource your IT managed services? Learn the telltale signs that your business could benefit from a new technology partner.
Our FREE eBook, "20 Signs That Your Business is Ready for Managed Service," sheds light on the difficulties you may not have even realized a managed services provider could help relieve.
Download your copy now to decide if IT IT-managed services are right for you.
The Complete Care Process
Complete Technology's approach to managed IT services provides a custom solution designed specifically to your business's needs. We start with learning more about your business, goals and objectives. Through our network assessment, we can further determine your business's technology infrastructure, management policies, security, and performance. Following discovery, our team can deliver a tailored proposal breaking down our strategic approach to eliminate excess IT spending and maximize your productivity. The Complete Care Process is a proven process for success and enables us to achieve the highest level of support and service for your users together.
Learn more about our offerings through our managed IT services:
Complete Technology provides remote and onsite IT support and management services to small and midsize businesses throughout Kansas City, Omaha, Des Moines, and St. Louis for one flat monthly fee. Contact Complete Technology Services today to get your free consultation.