Services

What Are IT Support Services?
Running a small business is no easy task, especially when you have to stay on top of help desk tickets, data backup, cybersecurity, network management, and more. IT support services help relieve that burden by providing you access to a dedicated team of professionals who are experienced in IT support and IT consulting.
Our outsourced IT support services include a combination of proactive support, consulting and vendor management, data storage, help desk support, and cybersecurity to better optimize your business and its technology.
Who Needs IT Support Services?
Handling IT services for an entire business is not just costly, it requires an investment of time and resources, all of which can be overwhelming for a small staff. Plus, the stakes are high. Mismanaged IT can result in cyberattacks, data breaches, and other disasters that many businesses never recover from.
If your organization could benefit from enhanced productivity, it may be time to consider remote IT support services. With Complete Technology's team at your disposal, the burden of IT management is off your shoulders.
Your staff will be able to focus more time on daily tasks,  you won't have to stress about IT staffing or spending, and unforeseen security or network events shouldn't be a concern.
Our powerful IT management strategies help increase efficiency, lower spending, and allow more time in your day to help grow your business.
Managed IT Support Benefits
Cost Savings
With outsourced IT support, you can cut down on infrastructure costs and easily scale your business for cost-effective growth. Complete Technology's flat fee covers everything from data backup to vendor management to onsite support, so you can reduce spending on recruiting, training, and consulting.
This predictable monthly fee helps ensure there are no surprises. All unexpected repairs or breakdowns are covered, making it easier for your business to budget in other areas.
Does your business need help reducing expenses? Here are 5 strategies for effective cost reduction.
24/7 Support and Monitoring
While an in-house IT team might only be onsite during business hours, Complete Technology's IT support team works around the clock to answer help desk inquiries, monitor your networks, and protect your systems.
We're known for our proactive IT support team. No matter what time it is, you can reach us by phone, email, or message, and we'll work with you to solve your technology problems.

Preventing Cyber Attacks and Data Disasters
Cybersecurity threats continue to rise annually, with small- and medium-sized businesses as the main targets. Complete Technology's cybersecurity services use industry expertise and proactive strategies to protect your customers, data, and reputation from cyberattacks and malicious activity.
We've developed a set of best practices in maintaining cybersecurity for small businesses to make sure your business isn't vulnerable to cybercrime.
Ensuring Safety for Your Business and Your Customers
Our team has decades of IT experience, top-notch security tools, and around-the-clock support, giving you peace of mind that your business, including your sensitive information and the customers you serve, are secured and protected.
Our data recovery strategies and detailed disaster recovery plans allow you to maintain efficiency even if an unexpected scenario were to occur.

IT Support Services To Protect and Upgrade Your Business Operations
Protect Your Business With Enhanced Cybersecurity Monitoring Services
A small business is an ideal target for cybercriminals. Many have access to significant amounts of private data or large amounts of money, but may not have the resources for the level of security that larger companies have.
With the increasing number of phishing scams, malware attacks, data theft, and other cyberattacks, it's important to have a cybersecurity strategy that's constantly monitoring and evolving.
Complete Technology performs regular security audits, firewall updates, and intrusion protection to ensure your business has multiple layers of security to combat cyberattacks.
Easy and Secure Data Storage in the Cloud or Hosted Services
Affordable pricing, easy scaling, and more powerful protection are just a few of the benefits of cloud service management. Using the cloud means your data is offsite, on a hosted service provider's server, but can be accessed at any time, from anywhere, as long as you have an internet connection.
Cloud storage is even more secure than storing data on your computer's hard drive, since reputable cloud service providers use a combination of encryption, frequent updates, AI, firewalls, and other powerful security measures that smaller businesses may not have the resources for.
Trustworthy IT Consulting and Vendor Management
Feel confident about making the best choices for equipment and vendors. With your technology and business goals in mind, Complete Technology offers industry expertise, strategy, and planning to guide you through the process of choosing and implementing the right tools for your organization.
We'll also manage your vendor relationships to reduce risks, streamline communication, and increase efficiencies of your operations. Complete Technology's IT Consulting and IT Vendor Management services are included in your monthly fee as part of our comprehensive IT-managed services.
Don't Sweat Data Disruptions with Reliable Data Backup & Recovery Plans

The livelihood of your business is your data, and losing mission-critical information could be catastrophic. Hardware failures, natural disasters, and cyberattacks can hit when you least expect them. Stay one step ahead of any data loss or disaster with a rock-solid disaster recovery plan.
We store your data in multiple highly secure locations and perform automated backups so you can rest easy knowing your network is equipped for a worst-case scenario. The reality is that preparing a disaster recovery strategy today can save you a lot of time and money in the long run.
Complete Technology can help develop a solution that's right for your business.
Available When You Need Us With 24/7 Help Desk Support
Our help desk support is available at a moment's notice to solve your technology issues. Whether you experience IT issues late at night, early in the morning, or on the weekend, our remote help desk services give you quick, efficient solutions to any IT concerns.
Reach us by phone, email, or instant message for immediate troubleshooting, questions, and tech support. We're here to help, even when remote IT support services aren't enough to fix the issue. If your IT emergency requires onsite tech support, we dispatch our onsite tech support team to your location for no extra charge.
Keeping Your Business Operations Efficient With Proactive Management
What is proactive IT support? It means reducing risk and monitoring your IT to avoid disruptions.
Our managed IT service providers perform regular upgrades and maintenance to eliminate downtime caused by IT challenges. We also partner with world-class vendors to bring you the best available tools and resources in order to provide uninterrupted service to your business.
IT Support FAQs
Why Should I Outsource My IT Support As a Small Business Owner?
The biggest reason many small businesses choose to outsource their IT is to gain access to a specialized team of tech pros at a reasonable cost.
Hiring, training, and maintaining an in-house IT team can be expensive, and if you don't have an in-house team, it's likely other employees are having to step in and serve as temporary IT support, which takes a toll on their productivity.
With outsourced small-business IT support, you get expert skills and strategy immediately to help scale your business and boost your efficiency for a set monthly fee. We pride ourselves on being named one of the best places to work in IT in 2023.
What If I Already Have In-House IT Support Staff?
Even if you already have in-house IT support, outsourced IT support can still benefit your business, especially if the two teams work together.
Your in-house IT department is often better equipped to handle day-to-day tasks, while Complete Technology's team can take care of higher-level strategy and management, like disaster recovery planning, cybersecurity, vendor management, and issues that fall outside of the 9-5 hours, when your in-house IT staff may not be available.

What Services Does an Outsourced IT Support Engineer Provide?
The way Complete Technology outsourced IT services work is that you pay one all-inclusive price to receive our entire range of services and customer care from our team of outsourced IT support engineers. Your outsourced team provides data backup and recovery, help desk support, IT consulting and vendor management, cybersecurity strategies, and more.
Our outsourced IT support engineers work to remotely solve your technology issues 24/7/365, and if needed, we send our team onsite to provide you with swift, in-person technical support.
What If My Technology Is Already Working Fine?
The most predictable thing about technology is that it's unpredictable. Your servers and computers may be working fine now, but to ensure they continue to work, it's important to proactively monitor, maintain, and manage your IT network.
This means installing security patches, scheduling updates, and handling preventive maintenance to keep your technology from failing and disrupting business.
How Can IT Support Boost My Productivity?
Security challenges, poor network performance, and excessive IT spending are all counterproductive. Without the distractions and stress that IT concerns create, your employees can focus on business operations.
Complete Technology will be behind the scenes helping you perform more efficiently so that your leadership can focus on what matters: your growth and profitability.
IT Solutions That All Businesses Need
From small- and medium-sized businesses to large enterprises, our dedicated team of IT professionals has experience partnering with all types of organizations to develop custom plans to manage and maintain business technology.
We work with commercial businesses, industrial organizations, healthcare organizations, law firms, and more to provide the highest level of customer service for a fraction of the cost. Don't just take it from us, read testimonials of our IT services from our outstanding clients.
Learn how we can boost your business practices with a free consultation.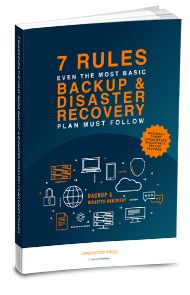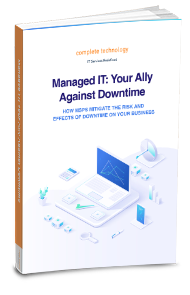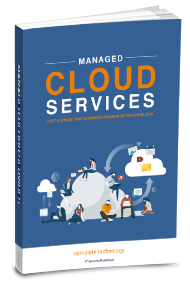 Download a Complimentary IT Support eBook
Get expert advice on cybersecurity, data breaches, disaster recovery, cloud security, and more with FREE IT eBooks available for download.
In our easily accessible and jargon-free eBooks, we answer frequently asked questions and address common concerns about a variety of IT challenges for businesses.
Complete Technology Serves the IT Needs of Businesses in the Midwest
Complete Technology has locations in Kansas City, Omaha, Des Moines, and St. Louis to serve your small- and medium-sized local businesses.
Get our full scope of services for a reasonable monthly fee, including IT support, IT consulting, cybersecurity services, cloud service management, IT vendor management, remote and onsite IT support, help desk solutions, and more.
Years of industry knowledge and local insights allow us to offer a well-rounded approach to technology management and support. Contact Complete Technology today to get started.