Working from home enables businesses in Kansas, Missouri and the world over to be more agile and productive even during a crisis. But while this setup ensures business continuity, lowers operational costs, and promotes better work-life balance, it can also threaten the very core of your business culture.
Working away from each other fosters feelings of isolation — which may adversely affect how teams coordinate with each other. How do you ensure that your remote workforce is on the same page when it comes to company values even when they are doing their own thing at home? These strategies may help.
1. Communicate your culture
Create a document articulating the company culture, and communicate it to every employee, especially to new hires during onboarding. This document must clearly explain business goals, key performance indicators, employee expectations and ideal behavior. Every item should be as detailed and articulate as possible, since it will be the basis of assessments regarding promotions, cultural fit, and the like.
Ask your remote workers to print out the document and display it somewhere visible so they will constantly be reminded of what's expected of them.
And as your company grows and changes, reassess your document and make necessary tweaks to it. From time to time, consult with your employees about what communication policies are working and what needs to change.
2. Continue rituals and traditions
Companies that started out with office-based setups might have established traditions, like having lunch to celebrate team achievements. With a remote workforce, you can't really do that anymore, so you need to modify company traditions.
Celebrations are one of the best ways remote workers can come together and bond. While you can no longer drink together to toast individual or team achievements, you can host a virtual recognition ceremony via video conferencing apps. This and other rituals, such as weekly catch-up meetings, will make your workforce more cohesive.
3. Foster a sense of accountability
The cliché "there's no 'I' in team" lends some truth when it comes to remote working. More than ever, colleagues need to trust that their team members are doing their jobs properly. And in return, employees shouldn't break this trust.
Being accountable requires a deep understanding of one's role within the team and the company, and openness to critique. To foster such accountability, adopt a strategy that holds everyone responsible for their actions: set deadlines and reminders, use project management tools to keep track of everyone's workload and progress, and have one-on-one reviews to check in on employees.
If you're able to foster a sense of accountability among your remote workers, you can highlight the team's interconnectedness and dependencies, pulling the team tighter.
4. Encourage an open environment
Communication is paramount in maintaining company culture, so cultivate an online office environment where everyone can express their opinions without judgement. This makes employees feel valued and more comfortable with the rest of their colleagues. One way you can get people to open up is by asking them about their ideas during meetings and acknowledging their input. If they're not yet comfortable with speaking in big groups, you can also give them small projects that will require them to work in pairs or triads.
Communication is paramount in maintaining company culture, so cultivate an online office environment where everyone can express their opinions without judgement.
Ultimately, it all boils down to respect. There will always be disagreements within a team, and the best way to resolve conflicts is by respecting one another's opinions. Only when a person feels that they are respected can they openly discuss their ideas.
5. Make the most of technology
It's more difficult to talk or communicate with one another in a remote work setup than in a physical office, since you can't catch up over water coolers or take coffee breaks together. Reaching out will have to be intentional, especially if you're a manager. You have to set aside time to talk to your team, whether it's about project updates or personal matters.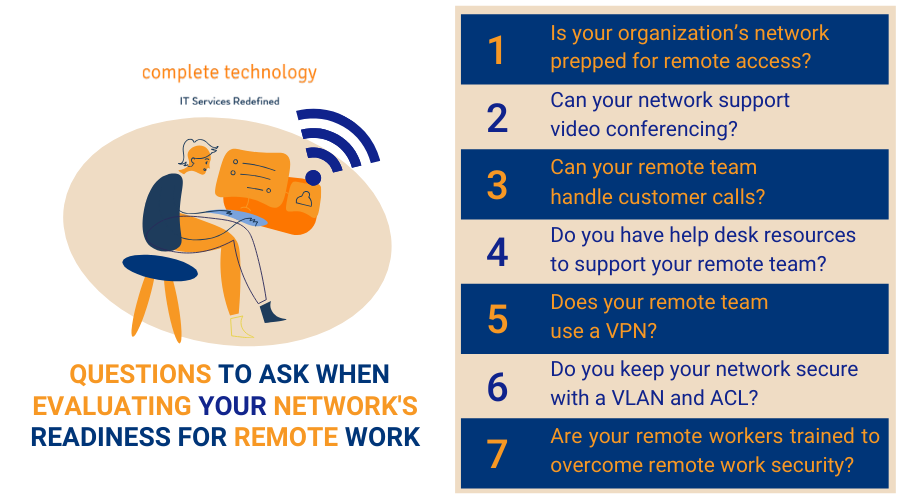 This is where technology can help. Maximize chat apps, video calling software, or Voice over Internet Protocol to keep in touch with your subordinates and peers. For instance, you can do a mandatory daily scrum meeting over Zoom to talk about what each team member has accomplished in the past 24 hours. These meetings will not only reinforce accountability but also strengthen your team's camaraderie.
A managed services provider (MSP) like Complete Technology can ensure that you don't face any IT-related hurdles so you can communicate with your remote team efficiently and effectively. If you want to learn more about the benefits of partnering with an MSP, download our FREE eBook today.