Even before the COVID-19 outbreak, many organizations were already adopting remote work. The pandemic was just the catalyst that made it the new normal. But while setting up a remote workforce is necessary to continue day-to-day operations, accessing data from outside the office poses cybersecurity risks such as data breaches.
Home networks do not have the same enterprise-grade cybersecurity solutions that office networks have, making remote workers virtually defenseless against cybercriminals. And when security incidents do happen, response times may also be delayed since in-house IT staff are not available 24/7 to monitor systems.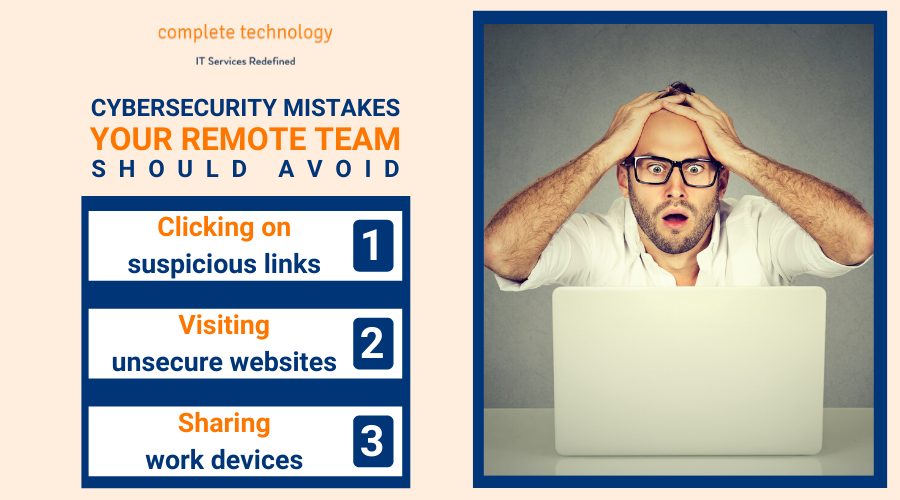 To prevent your business data from being compromised, make sure that your remote workers are not doing any of these three things — and if they are, here's how to mitigate the damage:
1. Clicking on suspicious email links
Phishing emails — notably COVID-19-related scams — are everywhere. They may even be in your employees' inbox pretending to be donation campaigns or news digests from seemingly credible organizations.
These fraudulent schemes aim to trick victims into divulging personal information or access credentials, or deceive them into wiring fraudsters money. They may also be out to cause a data breach and steal business information.
What to do
Cybercriminals launch about 45 million phishing attacks a month, with one scam more intelligent than the next. To keep your business protected, secure both technology- and human-related vulnerabilities that make phishing scams successful.
Install antivirus, web filtering, and other security solutions to detect suspicious emails and websites. Deploy multifactor authentication (MFA) to verify access credentials. To minimize human error, train your employees to identify phishing email red flags, like misspelled URLs, poorly worded messages, and generic greetings. Encourage them to type addresses manually instead of clicking on links, even if an email seems to have come from a reliable organization.
Roll out a clear protocol if they happen to click on a phishing email. It should include a step-by-step guide that walks employees through disconnecting from the internet, scanning the machine for malware, changing passwords, and the like. Develop a culture that makes it easy to report questionable links and undertake necessary actions.
2. Visiting unsecure websites
Remote workers may switch between work and play when using the internet, often resulting in visits to unsecure, non-work-related websites. Visiting these sites poses a privacy risk: all data sent and received through that site — including business data — could be potentially seen, modified, or stolen.
What to do
Your team should be extra cautious about which websites they visit. Always look for the padlock sign in the address bar — this sign indicates that a website is secure and legitimate. Check if there's an S (which stands for "secure") after the HTTP in the website address as well.
Your company should also have a safety protocol in case someone visits an unsecure website. For instance, employees should know what to do or who to contact if they accidentally get redirected to a malware-ridden page. A managed security services (MSS) provider like Complete Technology can help you set up this protocol, as well as provide you with data encryption, round-the-clock monitoring, and other proactive cybersecurity solutions that can keep cyberthreats at bay.
3. Sharing work devices
Some of your remote workers may be using their personal devices for work. That's completely fine, especially if they're self-isolating and don't have access to company-issued equipment. But if they're sharing these devices with their partners or family members who use them for personal tasks, your business data might be exposed to security risks. For one, an employee's kid or sibling may accidentally access, modify, or share company data.
What to do
If sharing of devices cannot be helped, encourage your team to unplug and practice habits that distinctly separate work tasks from personal tasks, like logging out of apps after signing out of work. Remind your team to treat every device as if it's a company device, and inform them that there are serious consequences should they fail to keep devices secure.
Remote workers should also disclose what devices they use for work, so the company's security personnel or IT partner can add multilayered protection to employee-owned devices. Make a case to ban "shadow IT," or technology that's not officially issued and approved by the company.
Shifting to remote work because of a global pandemic shouldn't cost you your data. You can still be protected from data breach and other security incidents if you have clearly defined security protocols — and the right security partner. Discover how Complete Technology can fortify your cybersecurity. Send us a message, or give us a call at 816-256-5458.
Make sure your remote staff is secure!
Devise a cybersecurity strategy that fits your business by reading our free eBook: 3 Essential types of cyber security solutions your business must have.